09 Jan
Posted By
0 Comment(s)
869 View(s)
How to Choose Luxury Garden Furniture?

With the warming of the weather, attention is turned to the outdoor gardens. In your restaurant, cafe or hotel, it is extremely important for your customers to be comfortable while lying in the shade and having a snack.

If you want them to be maintained in a pleasant way, you will need outdoor luxury garden furniture.
In this article, we touch on all the details you need to know about the garden furniture you will choose to suit the style of your business. We are absolutely sure that you will have expert opinions in our article. Let's start!
Drawstring Luxury Garden Furniture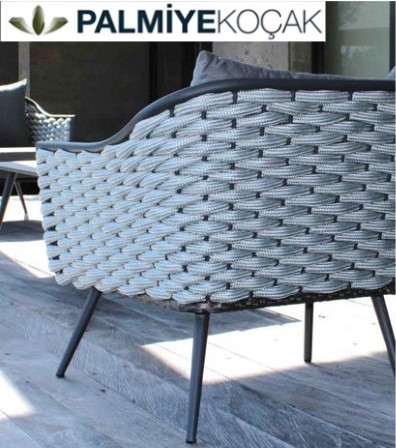 These chairs made of rope are becoming very popular. This structure consists of various cords stretched over a solid frame to create a stylish, organic pattern. The rope structure used provides a natural cushioning and when used together with the flooring suitable for the structure, wood or metal can balance the hardness it will create.
Many customers also want to add small decorations to the chair, manufacturers usually weave or twist the ropes. The popular Tight weave looks great when used with outdoor areas such as patios and patios.
The Rope used is light and comfortable. It also offers beautiful appeal and a stunning textural quality. But cords can be dangerous if you have pets or children.
Rattan Luxury Garden Furniture

Rattan is a highly demanded outdoor furniture material on the market. Although it was not in demand in its first production, it is now more robust and water resistant than its first model.
Luxurious rattan evokes Timeless design and beauty, making it suitable for a wide variety of outdoor environments, from modern to classic.
A quality rattan is seen as the strongest outdoor material. Although this furniture looks natural, it is also highly resistant to temperature and weather changes. It has a natural stretch, which makes it particularly comfortable when paired with pillows and cushions. The disadvantage of rattan furniture is that if you do not have a large storage area in the winter, they can have a problem with space.
Wooden Luxury Garden Furniture

Wood; It is an intrinsically natural material that adds a beautiful décor to your outdoor spaces. It provides both a comfortable and a happy environment.
There is a lot of luxury wood on the market. Redwood, Teak, and Cedar are potential options. Each item offers a different item that makes any item you purchase unique.
However, you should remember that all woods can bend, swell and are susceptible to leaching from other garden organics.
Metal Luxury Garden Furniture

Furniture Manufacturers have been using metal as a material for outdoor furniture for over a century due to its strength and durability. Unlike any other material, they provide a distinct simplicity and beauty. In addition, you can achieve the harmony you want with the paint possibilities you choose according to the environment of your garden.
The advantage of metal garden furniture is the combination of style and durability. As long as the metal is adequately treated, you can leave it outside year-round, even in the harshest conditions. Many wrought iron versions feature stunning scrollwork that creates an almost magical aesthetic.
The downside is that raw metal furniture can be uncomfortable. However, many designs come with matching upholstery.
Upholstered Luxury Garden Furniture

How to Choose Luxury Garden Furniture? We deliberately left the most eye-catching for last. Upholstered luxury garden furniture, quite elegant, although these furniture are closer to indoor furniture, they can still be resistant to all weather conditions. Thanks to their special water-resistant fabrics, they look nice for a long time, and then they retain their good smell. Sofas, chairs, armchairs and sun loungers can also be used comfortably.
The upholstery offers tremendous comfort and support. However, its material is not as durable as rattan or metal.
End

How to Choose Luxury Garden Furniture? Again, we have come to the end of our full and very informative article. You can click here to take a look at our products. Click here to contact us.